Pole Dance Classes in Basingstoke, Hampshire with The Flying Studio!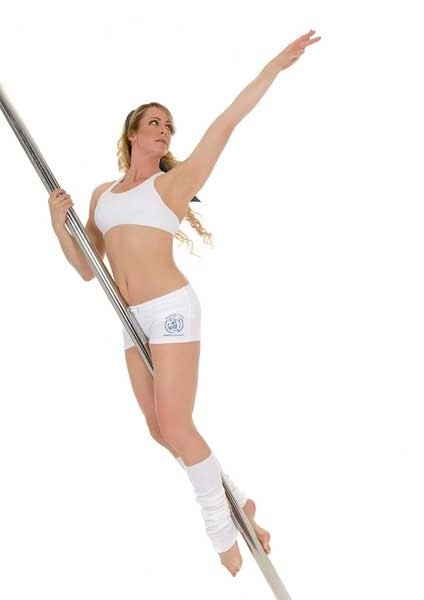 Welcome to The Flying Studio, home of authentic pole dancing in Basingstoke, Hampshire
The Flying Studio is a pioneering Pole Dance Studio and was founded in 2002 by Genevieve Moody B.Sc(Hons).
Offering high quality pole dancing lessons in Basingstoke for complete beginners to advanced level.
Our continued success is shown by our popular weekly pole dance classes and workshops in Basingstoke. Frequent flyers at our studio enjoy the welcoming, positive and friendly environment that we create. Our pole school is a model which is used worldwide as a template. Many pole dance school owners from around the country have attended our school and now have great success in the disciplines that we have taught them.
Wanting to bring pole dancing into the mainstream, we were first to introduce the concept of dancing barefoot and with ballet shoes. This is now adopted worldwide. However, in recent years since pole dancing has become more widely accepted in it's various forms, Genevieve has returned to wearing heels while dancing.
We are members of Equity and One Dance UK.
Our original website (formerly known as Strictly Pole Dancing) has now been archived after being used around the world for many years as a reference.
Publications/writers referencing our work/interviewing us as pioneers of the pole dance movement include:
Poles Apart Thesis by Dr. Kerry Allen
Pole Dancing, Empowerment and Embodiment
by Dr. Samantha Holland
Our early involvement with the IPSF
Pole Dancing is an awesome workout that can give you a toned, honed, fit body.
You will not believe what you are able to achieve in just a few sessions!
Please see our teachers page for teacher profiles. See you at class soon! Genevieve xxx
Basingstoke pole dance lessons for pole dance class students attending from Basingstoke, Hampshire, Berkshire and the surrounding areas of Winchester, Farnham, Aldermaston, Thatcham, Alton, Aldershot, Reading, Wokingham, Fleet, Hook, and Surrey.